Komono is the miscellaneous items category. And there is one thing we know for sure: komono is just about EVERYTHING. If it isn't clothing, books or papers, it is komono. It left us yelling "THAT IS SO MUCH STUFF MARIE!"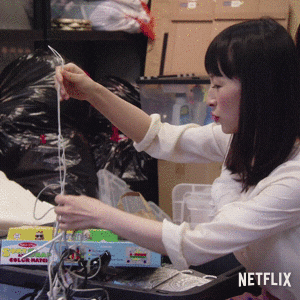 Just like Marie's other lessons, komono is so important when selling your home. As REALTORS® we know that personal items and clutter can prevent a buyer from seeing themselves in a home. Home buyers peek into drawers and cupboards, in kitchens and bathrooms to see how they can store their belongings.  So, this category is actually the most important! One of our favorite rooms with a lot of komono is the kitchen.  Kitchens are one of the top features that home buyers look for, and a well maintained and organized kitchen can mean valuable dollars at the negotiating table!
The process starts the same: bring everything out! Remove everything from your pantry, bring out all of your dishes and Tupperware, and put them somewhere you can see them all at once.  Then, sorting through the items one at a time, make sure each item sparks joy, and will be useful for you moving forward. Especially in the pantry, this is a great time to remove anything expired!
Once you are ready to re-store your items, make sure you keep them in categories – group like food items together, group similar dishes together. Marie also recommends using clear containers when possible, so you can see what you have and how much of it. We love this tip, because it helps when showing your house as well! When a buyer sees that you have plenty of room for all of your dishes – both every day and seasonal or limited use, they will instantly imagine they can store all of their items as well. Not to mention how handy it will be to have all of your snacks in one spot!
One REALTOR® tip as you are evaluating your food and kitchen goods – if you find that an item is no longer practical for you, or no longer sparks joy, but is still functional and not yet expired, consider donating these items to your favorite local charity like shelters, food pantries or soup kitchens! Establishments like this often rely on donations to help a lot of people, so you can clear out your clutter and help others at the same time!