March 19, 2019
So, you spent the time in January and February to completely Marie Kondo your home, and it isn't sparking joy in your life any longer. Maybe it's time to think about selling? Our REALTORS® are here to help you every step of the way, including whether or not you should sell your home – but if you decide that is the next step, here are some of our favorite home staging tips!
De-clutter & Clean
You've already got that decluttering down, right? (If not – check out our series on how to tidy up your home!) Cleaning is of utmost importance when staging and selling your home. Wipe down countertops and clean mirrors regularly, especially in preparation for a showing. Insure floors are clean, check out the inside of appliances (especially if you are selling them with the home) and dust, dust, dust! Not into cleaning? That's ok, our REALTORS® can recommend resources to help with this.
De-personalize Your Space
Homebuyers want to picture themselves in your space. By removing personal items, like family photos, unique design choices, bathroom toiletries, and anything overtly religious, you allow the buyer to see their photos, their design, their toiletries, etc. Now, you don't need to do any major renovating to achieve this, nor do you need to clear everything away – you're aiming for comfortable and charming.
Stage Kitchen, Living Room, Master Bedroom First
The kitchen, living room and master bedroom are the three most lived in rooms in a home. Because of that, homebuyers often make their decisions based on these spaces! Create an environment that helps to showcase the best assets of these rooms, and you will help homebuyers picture themselves living life there too.
Well Placed Color Can Go A Long Way
Most home staging tips will say neutral everything is the key. But some well-placed color can help your home feel vibrant, exciting, adventurous, or calming, serene and comforting. When thinking about color in your home, stick to items like throw pillows, rugs, blankets or fresh flowers to add color – you take those things with you, so the buyer won't feel stuck with a bright orange wall or pink carpet.
Consult the Professionals
Feeling overwhelmed with our first four tips? That's where we come in. Our REALTORS® can help guide your home staging choices, and even recommend some trusted industry partners. Feeling eager to get going? Contact a Berkshire Hathaway HomeServices Michigan Real Estate agent today!
March 5, 2019
We often say a Berkshire Hathaway HomeServices Michigan Real Estate Agent is Good to Know™, but what does that really mean? Our company growth is dependent on every carefully chose member of our team, so when you choose a BHHSMI REALTOR® to help buy or sell your home, you're choosing a leader in the industry.  Here's our pick for the top four reasons a BHHSMI agent is the best option for your real estate transaction.
We are part of a worldwide organization of trusted real estate experts. Not every real estate company has the name Berkshire Hathaway backing it. When you work with a Berkshire Hathaway HomeServices network agent, you can trust in their strength, integrity, and universal integrity.
We are one of the largest networks of REALTORS® in Michigan and Northern Indiana. Coming in second for number of agents in Michigan, BHHSMI has one of the largest networks of any real estate company. This means we have one of the largest referral networks, and cover the largest area – which is a good thing for you! A larger network means more offers on your home as a seller, and more potential homes for you to see as a buyer.
We are real estate experts. When it comes to real estate knowledge, no one beats BHHSMI. Our agents spend countless hours each week learning how to serve you better. Whether finding new ways to market listings, researching local areas and communities or brushing up on their legal knowledge, you can count on our experts to get you the best results.
We are marketing gurus. Our marketing services start on day one. We are there to help determine selling price, suggest minor or major repairs to help get top dollar, and we use the best tools in the market to get more eyes on your home. Our national marketing ensures that the Berkshire Hathaway HomeServices name is in front of home buyers regularly, our listings are seen on over 100 real estate websites, and we advertise our properties on Facebook and in local information sources. And home buyers – this is good for you too! Knowing where to market a home means we also know where to go to find you that new home.
Ready to take the first step in selling your home or buying a new home?  Contact one of our REALTORS® today.
February 12, 2019
The final lesson in the KonMari Method™ is sentimental items. As REALTORS® this is one of the hardest things to discuss with our clients when selling their homes. Too many sentimental items in your house, or items that match your unique tastes can turn off some potential buyers. Like the other lessons in Marie's method, lesson five can immediately contribute to your bottom line when selling your home. And like some of the other lessons, it can also be very difficult!
To start, save all sentimental items for the end of the tidying process. If you encountered any of those items in steps 1-4, now is the time to bring them out. These items are often difficult to tidy because we have an emotional connection with them. Perhaps that drawing is from your child who is now grown and has moved out of the house, and you miss that younger time. Perhaps that item of clothing was from a time when you went through a lot of changes, and you have a lot of respect for that time in your life. Perhaps a loved one has passed, and that item or antique was given to you from that loved one.
The best part about Marie's method is that we can decide what is important to us and what sparks joy for us. If those items do spark joy and you will revisit them, good news, you can keep them! But they shouldn't be buried in a tub in the basement or the garage. They should be where you can easily get to them each day. Don't want to see those items each day? That is when to evaluate if it truly sparks joy.
That wraps up our series on Marie Kondo! Have you tried any of her tidying tips? Is your home no longer sparking joy? Our REALTORS® can help with that.
January 31, 2019
Komono is the miscellaneous items category. And there is one thing we know for sure: komono is just about EVERYTHING. If it isn't clothing, books or papers, it is komono. It left us yelling "THAT IS SO MUCH STUFF MARIE!"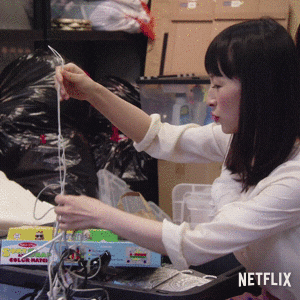 Just like Marie's other lessons, komono is so important when selling your home. As REALTORS® we know that personal items and clutter can prevent a buyer from seeing themselves in a home. Home buyers peek into drawers and cupboards, in kitchens and bathrooms to see how they can store their belongings.  So, this category is actually the most important! One of our favorite rooms with a lot of komono is the kitchen.  Kitchens are one of the top features that home buyers look for, and a well maintained and organized kitchen can mean valuable dollars at the negotiating table!
The process starts the same: bring everything out! Remove everything from your pantry, bring out all of your dishes and Tupperware, and put them somewhere you can see them all at once.  Then, sorting through the items one at a time, make sure each item sparks joy, and will be useful for you moving forward. Especially in the pantry, this is a great time to remove anything expired!
Once you are ready to re-store your items, make sure you keep them in categories – group like food items together, group similar dishes together. Marie also recommends using clear containers when possible, so you can see what you have and how much of it. We love this tip, because it helps when showing your house as well! When a buyer sees that you have plenty of room for all of your dishes – both every day and seasonal or limited use, they will instantly imagine they can store all of their items as well. Not to mention how handy it will be to have all of your snacks in one spot!
One REALTOR® tip as you are evaluating your food and kitchen goods – if you find that an item is no longer practical for you, or no longer sparks joy, but is still functional and not yet expired, consider donating these items to your favorite local charity like shelters, food pantries or soup kitchens! Establishments like this often rely on donations to help a lot of people, so you can clear out your clutter and help others at the same time!
January 28, 2019
Home offices, or bonus rooms can be a big selling feature for many homebuyers. But what happens when your valuable extra space is cluttered with bills, papers, books and more? Buyers start to see the space as a burden rather than a bonus! That's where lesson two and three on the KonMari Method™ come in especially handy!
Lesson two focuses on books.
These could be adult, child, textbook, novels, dictionaries – if it has a binding and you've been holding on to it, time to tidy it up! The process for books is the same one you followed for clothing: get everything out and pile it on the floor or a table. Then evaluate one at a time if the book sparks joy for you. Marie also points out here that you should consider whether the books will be valuable to you moving forward.  And do not forget to thank each book for its service to you as you tidy.
Lesson three is all about papers.
These seem like they would be a little easier to judge whether to keep it according to the KonMari Method™ but we actually found this really hard! Cards, artwork, little notes can often hold a lot of sentimental value! Remember, Marie's 5th category is sentimental items, and she recommends completing those last. So, if you're finding something too difficult, save it for later in the process.  Each paper that you keep should fit in to 1 of the 3 categories in the method.
Pending: these are papers that you need to take action on. Think bills, a letter you haven't yet responded to, that notice to make a check-up at the doctor or dentist. Sort these in their own location so you can attend to them in a timely way.
Important: It seems self-explanatory, but these are papers that you need to keep permanently, like insurance forms, contracts, etc. Sort them somewhere they are protected – we recommend a fireproof safe where you can also store bank documents, passports, birth certificates and more. And remember, all of the papers should be together, so keep your safe with your other papers.
Miscellaneous: these papers are items you want to refer back to regularly and ones you want or need to read frequently. This could be magazine clippings, recipes, seminar notes, instructional manuals, etc.
When you take care to tidy up that bonus room or office, it will have buyers singing praises of your home's space and will help them picture their life in your home.
January 24, 2019
The first lesson in the KonMari Method™ is to evaluate and tidy your clothing. Closet and storage space is one of the top 10 items that homebuyers tell our REALTORS® they need in their new home, so Marie is on to something here!
To get started with your clothing, you have to make a little mess.  Pile all of your clothing in one place – a bed or a living room floor work well. Kondo says that when you see all of the clothing you own, you are more aware of how much you actually have and it will make the process easier.
Once everything is out of drawers or out of the closet, you need to hold each piece one at a time and determine if that piece sparks joy in your life. If it does, simple, you keep it. If it doesn't, you have to keep in mind if you truly need it or not – for example, an undershirt might not be particularly exciting or spark that excitement for you, but you may need them to wear other clothing that does spark joy.  Not sure how to know what sparks joy?  Our last blog post gives you some examples.
As you pick the items you will keep, Marie has very specific folding instructions.  Check out her youtube page to see all of the methods!
Aside from the benefit of giving you more closet space, we are really loving the focus on only keeping things that spark joy.  Each and every day, our REALTORS® help homeowners find joy in their homes. We believe in finding that special new home to start your next chapter or the perfect new owners to love your home the way you have.
So, take a look around – does your home spark joy? Give us a call, and let's make Marie proud!